The Lifecycle of Copyright
The U.S. Constitution set the stage for Congress to pass copyright laws to protect creative works, but copyright protection does not last forever. The Constitution gave Congress the power to grant copyrights only for "limited times."
Copyright law protects a work from the moment the author creates and fixes it in a tangible form of expression, such as on paper, in a recording, or in a digital photograph. The length of copyright protection depends on several factors. Generally, for most works created after 1978, protection lasts for the life of the author plus 70 years. For anonymous works, pseudonymous works, or works made for hire, the copyright term is 95 years from the year of first publication or 120 years from creation, whichever comes first.
When the copyright term expires, a work becomes part of the public domain, and anyone can use it without permission from the author. The public domain also includes material that copyright law never protects—such as ideas, facts, titles, discoveries, procedures, and works created by the U.S. federal government. Although copyright does not protect this material, patent or trademark laws might apply in some circumstances. Works in the public domain often inspire new works, adaptations, and derivative works, further enriching the country's cultural landscape.
Learn More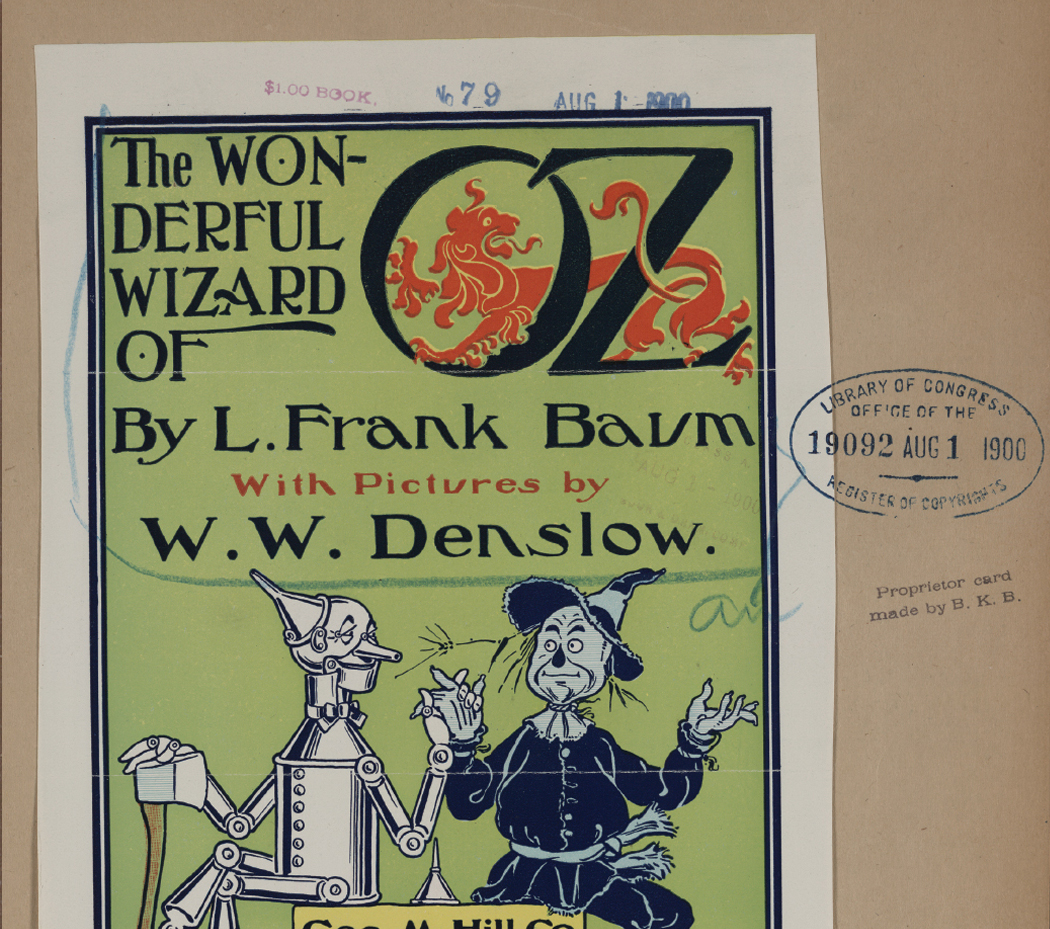 Derivative Works Give New Life to Works in the Public Domain
L. Frank Baum wrote the children's novel The Wonderful Wizard of Oz in 1900. It spawned a popular 1902 Broadway musical and the iconic 1939 film starring Judy Garland. The book sold more than three million copies by the time it entered the public domain in 1956.
The Wonderful Wizard of Oz continues to inspire countless derivative works, including The Wiz—an all-Black stage production set in the context of modern African American culture—and Gregory Maguire's 1995 novel Wicked, a retelling of the story from the perspective of the witches. The latter, in turn, inspired the popular Broadway musical of the same name, with music and lyrics by Stephen Schwartz.
Learn More Related Exhibit Artifacts

L. Frank Baum. Envelope for letter from Baum to the Copyright Office, 1900. U.S. Copyright Office, Library of Congress
Re-issue of key art poster for Wicked the Musical, 2003. U.S. Copyright Office, Library of Congress