Copyright Office Welcomes New Ringer Fellow
Issue No. 921 - September 23, 2021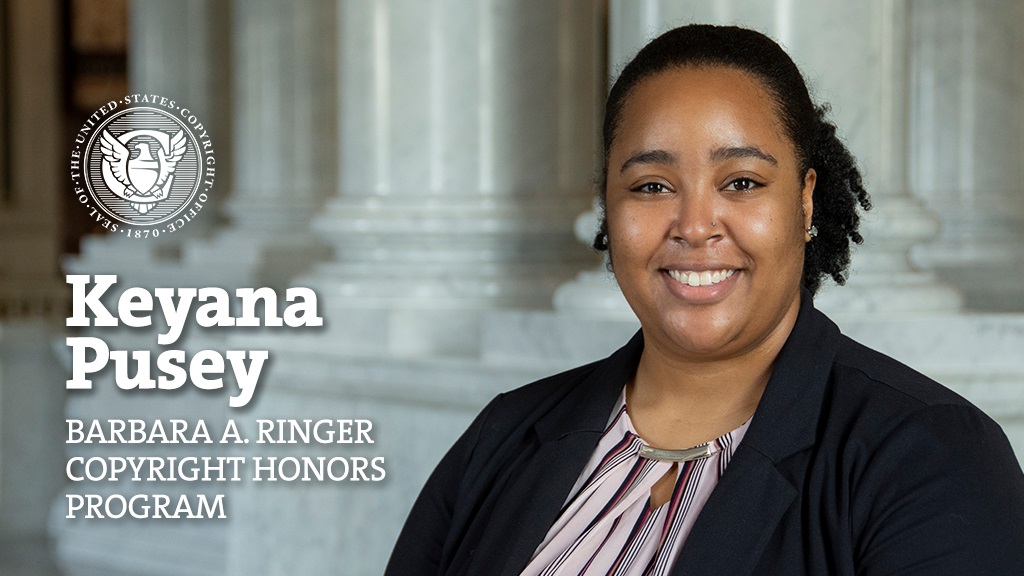 The U.S. Copyright Office is pleased to announce that Keyana Pusey has joined the Office as a fellow (2021–2023) in the Barbara A. Ringer Copyright Honors Program. She started her two-year appointment this month and will receive assignments from multiple departments within the Copyright Office, including the Office of Policy and International Affairs, Office of the General Counsel, Office of the Register, Office of Public Information and Education, and Office of Registration Policy and Practice.
Register of Copyrights Shira Perlmutter appointed Pusey after a competitive application and interview process. The program—named for Barbara A. Ringer, who served as Register from 1973 to 1980—offers promising early-career copyright lawyers an opportunity to work on a variety of advanced legal and policy issues.
"Keyana brings a passionate interest in copyright law and continues our tradition of hiring highly talented lawyers to the Ringer Fellows Program," Perlmutter said. "We are pleased to have her join us. She will have many opportunities to contribute to the legal, regulatory, and policy issues that the Copyright Office is working on."
Pusey earned her JD from American University Washington College of Law in 2021, where she was a member of the Intellectual Property Law Society and the Black Law Student Association. During law school, she interned at the Public Broadcasting Service (PBS) and its member television station, the Greater Washington Educational Television Association (WETA). She also served as a student attorney in the Glushko-Samuelson Intellectual Property Law Clinic. Pusey received a bachelor of arts degree in political science and criminal justice from Temple University.
The Copyright Office launched the Ringer Honors Program in 2013. It offers eighteen- to twenty-four-month paid fellowships to attorneys who are no more than five years out of law school and have a strong record of achievement and demonstrated interest in copyright law. For more information, please visit the Ringer Fellowship webpage.