Authors, Attribution, and Integrity: Examining Moral Rights in the United States
---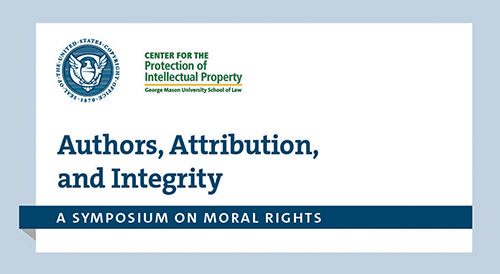 A Symposium co-sponsored by
The United States Copyright Office and
The George Mason University School of Law
and its Center for the Protection of Intellectual Property
Monday, April 18, 2016, in the Montpelier Room of the Madison Building of the Library of Congress, located at 101 Independence Avenue SE in Washington, D.C.
This symposium began a conversation about the role of moral rights protection in the United States. This day-long event brought together authors, scholars, and other stakeholders for a broad discussion of copyright issues related to moral rights. Topics included the historical development of moral rights, the value that authors place on moral rights generally and individual moral rights specifically, the various ways these rights are provided for under current law, and new considerations for the digital age. Further study of moral rights under U.S. copyright law was among the recommendations made by the Register of Copyrights in testimony before Congress last spring and was requested by the Ranking Member of the House Judiciary Committee.
The proceedings of this event, including the official transcript, have been published by the George Mason Journal of International Commercial Law in its Summer 2016 edition. Click here or on the Official Transcript tab, above.
This event also was filmed, and the videos are available at the following links: Session 1; Session 2; Session 3; Session 4; Session 5; Session 6; Session 7.
This event was open to the public. Requests for ADA accommodations were to be made five business days before the event at (202) 707-6362 or [email protected]
---