Engage Your Creativity: Copyright and IP for Young Professionals
---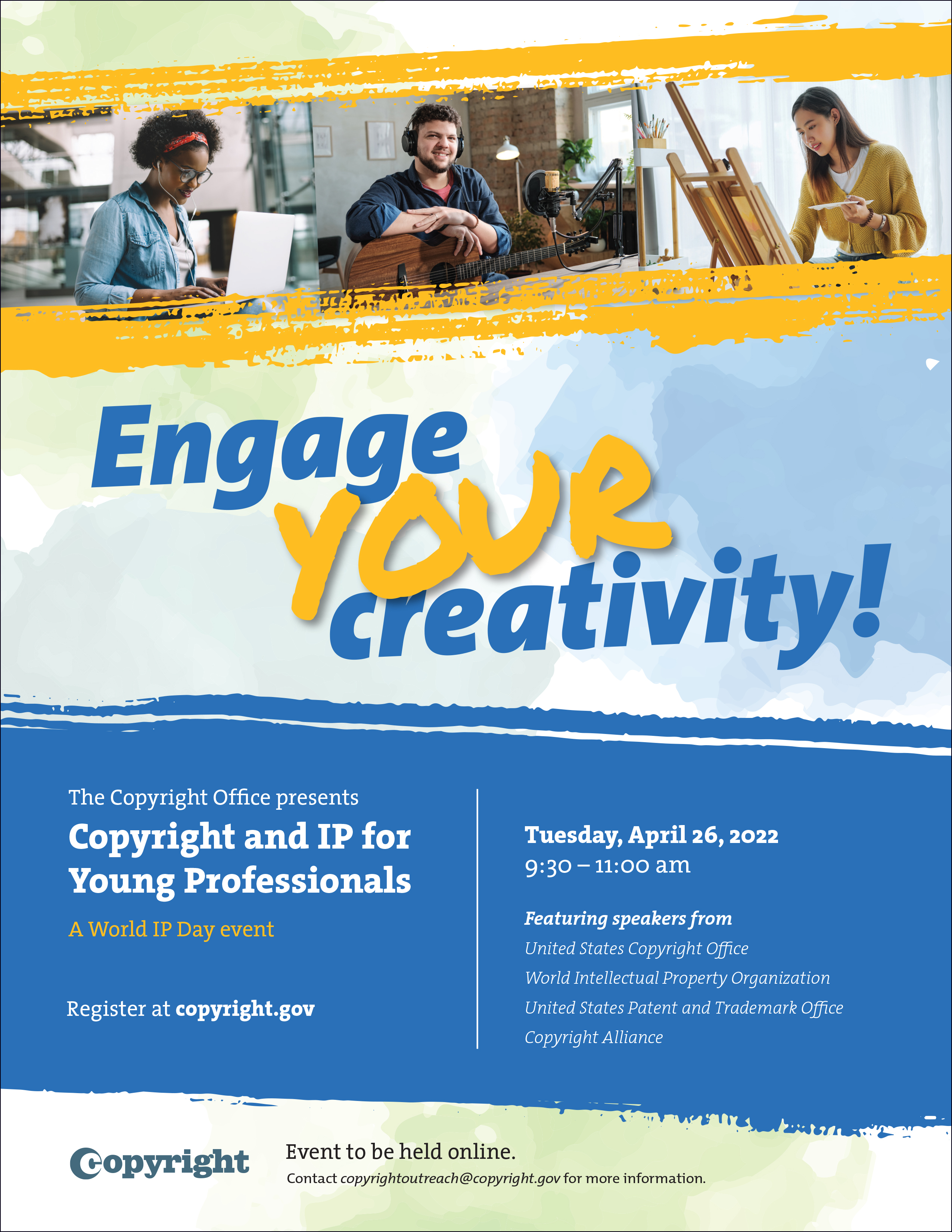 The U.S. Copyright Office hosted a Copyright Office Presents celebration of World Intellectual Property (IP) Day on April 26 at 9:30 a.m. eastern time. The event, Engage Your Creativity: Copyright and IP for Young Professionals, explored the intellectual property rights young creators enjoy.
The Register of Copyrights, Shira Perlmutter, opened the event with introductory remarks. Altaye Tedla Desta, head of World Intellectual Property Organization (WIPO) eLearning Program, spoke on behalf of WIPO. Throughout the event, we heard presentations from George Thuronyi, the interim head of the Public Information and Education Office; Branden Ritchie, senior level attorney from the U.S. Patent and Trademark Office (USPTO); and Jaylen Johnson, attorney-advisor from the Public Information and Education Office. The program ended with Christopher Kenneally of the Copyright Alliance, who interviewed young artists to discuss their experiences with IP, their career stories, and links to copyright relevance.
In addition, Register Perlmutter took part in a virtual fireside chat at the USPTO World Intellectual Property Day 2022 event at 1:00 p.m. eastern time. She discussed how to promote IP adoption among young innovators.
World Intellectual Property Day, observed on April 26 since 2000, marks the date in 1970 when the WIPO Convention came into force. The anniversary of this occasion is observed as a way of promoting and increasing general understanding of intellectual property. This program was part of the Copyright Office Presents lecture series and was free and open to the public.
---