What You Need to Know about Small Claims and the Copyright Claims Board
---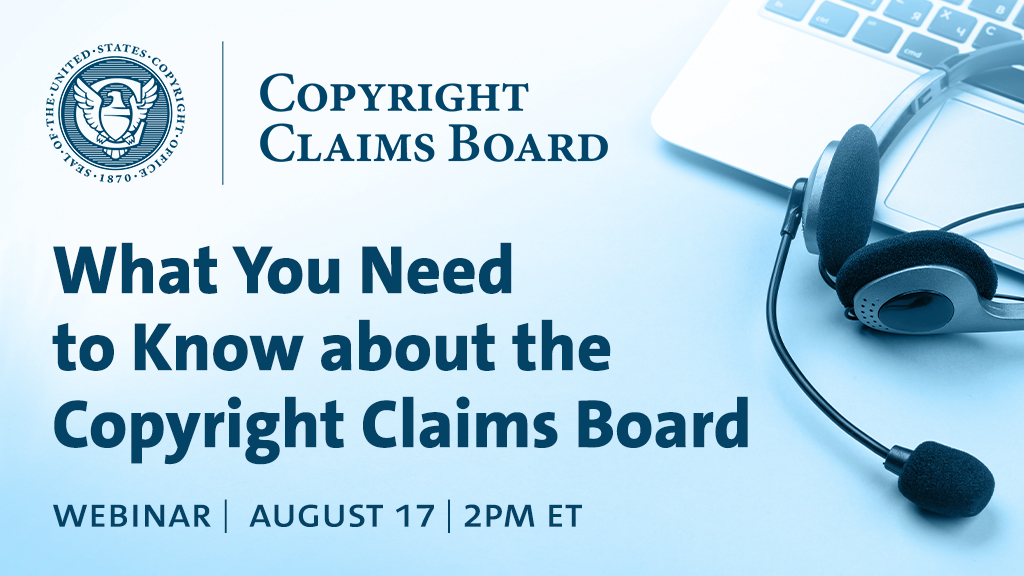 You may have heard about the Copyright Claims Board, or CCB for short. But what is the CCB? Who can use it? In this fifty-minute webinar, learn the basics about what anyone should know before filing or participating in a CCB proceeding. Attendees will learn about the types of claims the CCB can hear, legal resources to be aware of, and why respondents might want to consider participating in the United States' first intellectual property small claims tribunal.
Note: This is a repeat of our January CCB webinar, back by popular demand.
Date: August 17, 2023 2:00 p.m. eastern time
Speakers:
Maya Burchette, Attorney-Advisor, Copyright Claims Board
Dan Booth, Attorney-Advisor, Copyright Claim Board
***
About the CCB: The Copyright Alternative in Small-Claims Enforcement (CASE) Act of 2020 established the Copyright Claims Board (CCB), a tribunal located in the Copyright Office and available as a voluntary alternative to federal court. The CCB is an efficient, streamlined way to resolve copyright disputes involving claims seeking damages of up to $30,000 and is designed to be less expensive than bringing a case in a federal court.
---