Powering Change: Women in Innovation and Creativity
---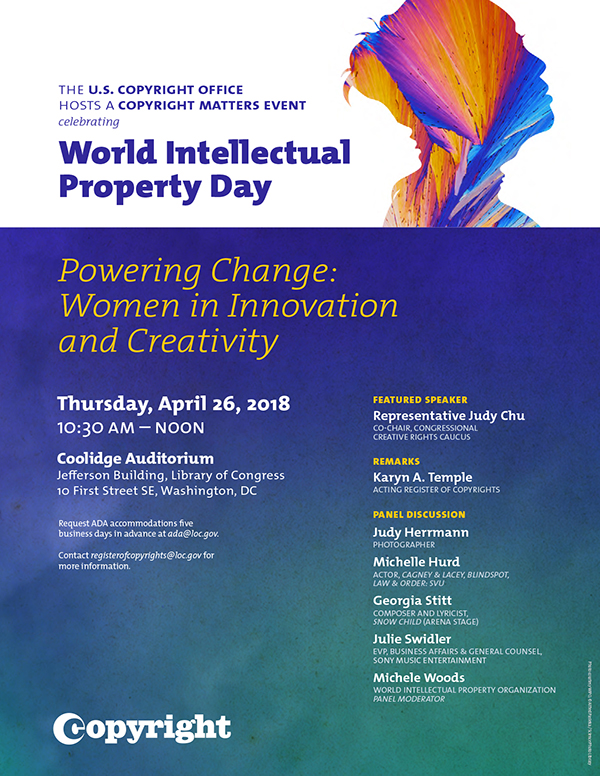 Celebrate World IP Day 2018
The U.S. Copyright Office celebrated World Intellectual Property Day with a special event on Thursday, April 26, 2018 in the historic Coolidge Auditorium in the Jefferson Building in Washington, DC. This year's theme, as announced by the World Intellectual Property Organization (WIPO), is "Powering Change: Women in Innovation and Creativity."
The Copyright Office's program featured an impressive array of prominent women speakers discussing the myriad ways women have shaped creativity and innovation. Acting Register Karyn Temple provided opening remarks and introduced a video about the history of women in the Copyright Office. Congresswoman Judy Chu, co-chair of the Congressional Creative Rights Caucus in the U.S. House of Representatives, provided featured remarks.
Michele Woods, head of the Copyright Law Division of WIPO, spoke and moderated a lively panel discussion featuring Judy Herrmann (photographer), Michelle Hurd (actor, Cagney and Lacey, Blindspot, Law & Order SVU), Julie Swidler (EVP, Business Affairs and General Counsel, Sony Music Entertainment), and Georgia Stitt (composer and lyricist, Snow Child). Audiovisual images introduced the work of Ms, Herrmann, Ms. Hurd, and Ms. Swidler. The event closed with a performance by Ms. Stitt (on piano) and her co-writer, Bob Banghart (on mandolin) of their original song, "The Things That Are True" from the musical, Snow Child, which premiered that night at the nearby Arena Stage.
World Intellectual Property Day, observed on April 26th since 2000, marks the date in 1970 when the WIPO Convention came into force. The anniversary of this occasion is observed as a way of promoting and increasing general understanding of intellectual property. This program was part of the Copyright Matters lecture series, and was free and open to the public. This event was also live-streamed.