Copyright and Social Justice
---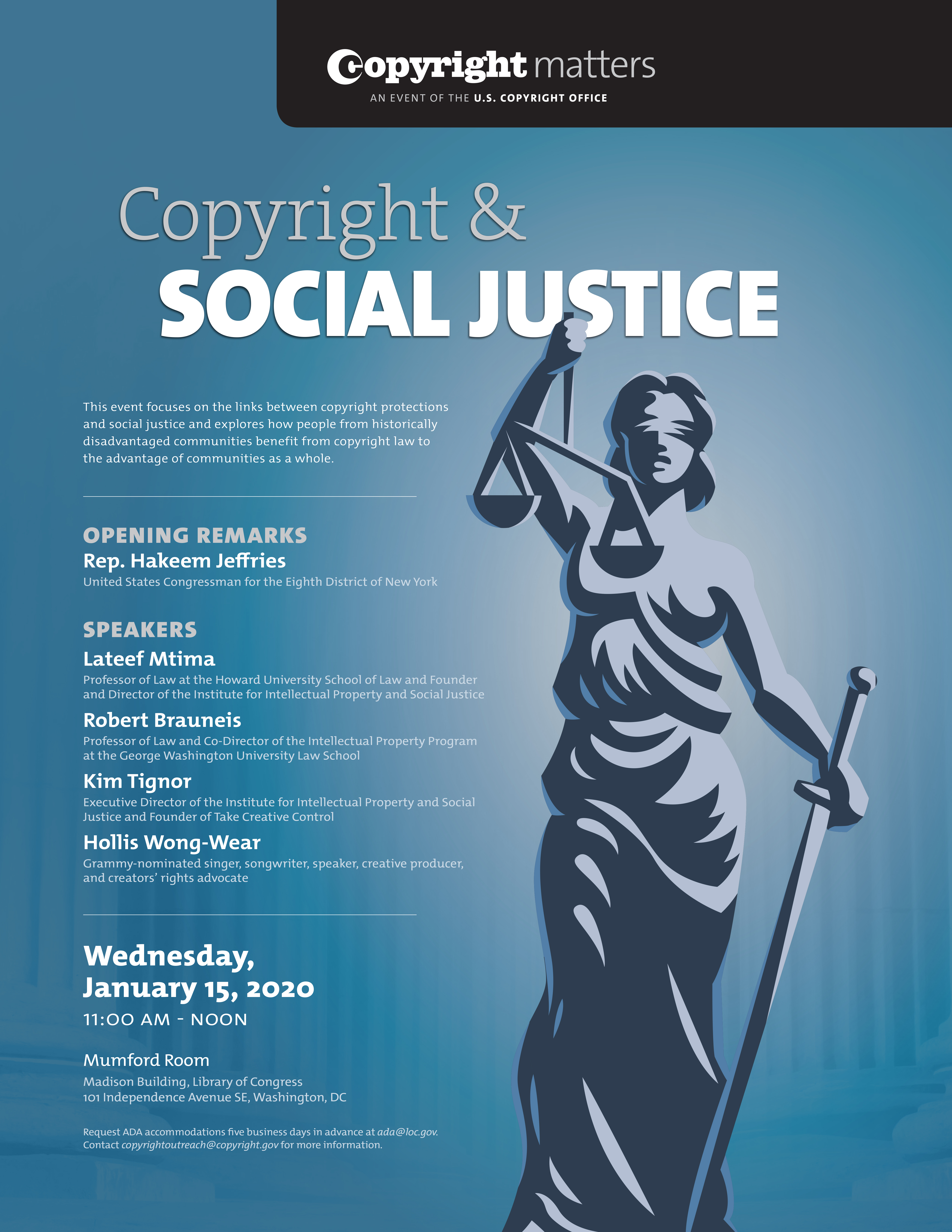 This event will explore how historically disadvantaged communities benefit from copyright law to the advantage of communities as a whole
"Copyright and Social Justice," a Copyright Matters event, focuses on the links between copyright protection and social justice. Public conversations surrounding copyright often presume that copyright primarily benefits owners of successful media properties to the disadvantage of those who aren't part of large media groups. However, copyright law incentivizes the creative efforts of all authors. It applies to all types of creators, from established and sophisticated creators to individual artists not as familiar with the law. This event will explore how people from historically disadvantaged communities benefit from copyright law to the advantage of communities as a whole.
The Hon. Hakeem Jeffries, U.S. representative from New York and member of the House Subcommittee on Courts, Intellectual Property, and the Internet, will give opening remarks, followed by a discussion featuring:
Lateef Mtima, professor of law at the Howard University School of Law and founder and director of the Institute for Intellectual Property and Social Justice;
Robert Brauneis , professor of law and co-director of the Intellectual Property Law Program at the George Washington University Law School;
Kim Tignor, executive director of the Institute for Intellectual Property and Social Justice and founder of Take Creative Control; and; and
Hollis Wong Wear, A Grammy-nominated singer, songwriter, speaker, creative producer, and creators' rights advocate.
The event is free and open to the public. However, registration is recommended since space is limited.
Please note that the event will take place in Mumford Room on the sixth floor of the James Madison Building.
Register Here