Rulemaking Proceedings Under Section 1201 of Title 17
---
The Copyright Office has initiated the eighth triennial rulemaking proceeding under 17 U.S.C. § 1201. More information is available here.
To subscribe to email updates for the 1201 rulemaking, including alerts regarding Federal Register notices, ex parte letters, public comments, roundtables, and other important information and dates, click here.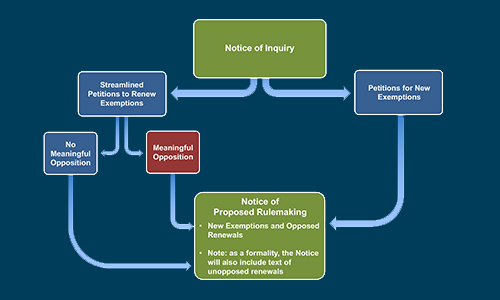 For the seventh proceeding, the Office established a new, streamlined procedure for the renewal of exemptions that were granted during the sixth triennial rulemaking. Renewed exemptions remain in force for an additional three-year period (October 2018 – October 2021). For more information on the renewal procedure, see our tutorials on this page.