Overview of the Copyright Office
---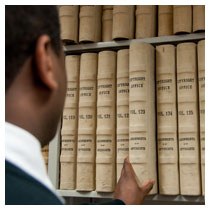 The U.S. Copyright Office, and the position of Register of Copyrights, were created by Congress in 1897 as a separate department of the Library of Congress. Twenty-two years earlier, Congress removed copyright registration from the district courts and centralized it in the Library of Congress. Today, the Copyright Office has approximately 450 employees, the majority of whom examine and register hundreds of thousands of copyright claims in books, music, movies, software, photographs, and other works of authorship each year. In fiscal year 2011, the Office processed more than 700,000 registration claims.

The Office's registration system and the companion recordation system constitute the world's largest database of copyrighted works and copyright ownership information.
The Office administers several statutory licenses that manage and disperse private monies, including those pertaining to copyright owners' rights in programming on broadcast television signals that are retransmitted by cable operators and satellite carriers.
It also provides basic copyright information services to the public in a variety of ways. Last year, the Office's Information and Records Division answered hundreds of thousands of inquiries by phone and email, performed search and retrieval functions for customers involved in research and litigation, and served a substantial number of in-person visitors.
Congress has also prescribed critical law and policy functions for the Copyright Office. See 17 U.S.C. § 701. These include: domestic and international policy analysis; legislative support for Congress; litigation activities; support for the courts and executive branch agencies (including significant efforts on trade and antipiracy initiatives); participation on U.S. delegations in meetings with foreign governments or private parties; attendance and participation at intergovernmental meetings and other international events; hosting copyright training for copyright officials from developing countries; and providing public information and education. The Copyright Office works regularly with the Department of Justice, the Department of State, the Office of the U.S. Trade Representative, and the Department of Commerce, including the Patent and Trademark Office. By statute, the Register of Copyrights is a member of the interagency intellectual property enforcement ad visory committee chaired by the U.S. Intellectual Property Enforcement Coordinator ( IPEC ).